About Patternmaster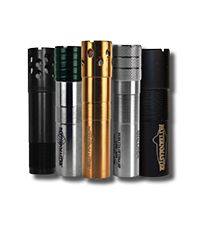 Patternmaster is the culmination of a single goal - how to have a better hunt. Approximately 20 years ago, as regulations were in place to ban lead shot from the marshlands, Patternmaster revolutionized the wing-shooting world with U.S. Patent #5,452,535. The idea was simple enough - create a more effective shotgun pattern to make steel shoot like lead - and they did it with a relatively simple but brilliant idea. The Science of Shot is what we like to call it.
About Our Tubes
How conventional chokes work:
Until the introduction of the Patternmaster tube in 1993, chokes used constriction as a way of controlling patterns. Constriction works just like a funnel, which does a good job of tightening the shot pattern. However, also like in a funnel, the shot cannot exit the barrel at the same time, which significantly lengthens the shot string, sometimes as much as 20 feet! (Shot String=distance from first BB to last as it exits the barrel)
As hunters, we rarely use a shotgun to hunt something that's not moving. A moving target combined with a long shot string makes it difficult to consistently muster enough pellets to knock down a target for a clean kill.
We are Different!
What makes the Patternmaster patent such an effective shotgun accessory for the hunter is the tighter shot string. A Patternmaster tube gives you a 2 to 3 foot shot string, compared to 15 to 20 feet from conventional tubes. The result is very simple; when you hit something you hit it with the maximum payload and energy. This means clean kills!
Patternmaster accomplishes this not by constriction but by the 5 studs cut out of the wall of our tubes. Where these studs are actually placed dictate the pattern each tube creates. Through about 20 years of research and develop we're pretty close to perfection. For a detailed explanation, see our videos located in our multimedia section.
The Patternmaster Family